IPL is a broad-spectrum light that is applied to the skin in order to reduce hair permanently. The hair is heated all the way down to the root, which is where the majority of the melanin is contained, in order to damage the hair follicle without harming the nearby skin and stop the cycle of regrowth. Melanin is the pigment that gives skin and hair their color.
Expect no immediate effects, but repeated IPL Hair Removal Kit use can help keep undesirable hair from growing close to the skin's surface. The effectiveness of the treatment is affected by energy, frequency, skin color, and hair color.
Most of the best IPL hair removal devices are suitable for the body and face. They work by either gliding over skin, which is best for larger surface areas of the body such as your legs, or stamping (pressing onto the area), which is better for smaller areas where you need more precision.

IPL should not be confused with laser hair removal. Different light sources are used in laser treatments, which concentrate their focus on a smaller area. The laser technique is frequently more effective.
IPL devices can be used at home, but a skilled professional must do laser hair removal if you want it.

IPL is regarded as safe to use as long as the equipment comes from a reputable, trusted brand and usage guidelines are followed. In rare cases, some people may develop negative side effects like redness, pain, or blisters or burns. Speak with a doctor if you experience any irritation.

In order for IPL hair removal to be effective, there must be enough hair to allow the energy to pass from the skin's surface to the follicle, but not too much to risk burning the skin. Therefore, shaving is preferable over waxing or epilating in order to completely remove the hairs before your IPL session.
Regular IPL sessions are necessary to completely stop the development cycle of your unwanted hair. Each manufacturer offers recommendations for how frequently to use their product and when to anticipate results.
Can I regularly use my IPL device?

The majority of IPL devices advocate using them once every two weeks for the first four weeks of treatment, though this depends on the exact brand and model. Once you've gotten the hang of it, top-ups can happen as frequently as once per month.
Keep in mind that following the suggested regimen will help you stop regrowth permanently and will yield the best results. Make sure to record the day your IPL journey begins and set up alerts for when to top off.

Depending on your skin and hair type, as well as the body part in question, you may or may not have permanently eradicated hair.
If you stick to a regular IPL routine, you can expect to see the majority of your hair gone for the long haul. But as an IPL device can only stunt the growth of active hair follicles, it might take a while to remove all hair. This is because some areas will grow back quicker than others. Persistence is key though, and, at the bare minimum, you can expect much slower re-growth.
IPL hair removal: Is it painful?

The degree of discomfort varies from person to person, but it can feel quite hot and tingly, similar to being flicked by a heated elastic band. However, the procedure is relatively quick, so the discomfort is short-lived.
The majority of devices also include a variety of heat settings to make the process more comfortable, particularly in more delicate places. Because a lower intensity is likewise less effective, it's crucial to keep in mind that maintaining this setting would need you to utilize the machine for longer.
If you've tried epilating and couldn't get through it without your eyes weeping, rest assured this is a more pain-free method!

IPL devices aren't appropriate for everyone because they can only detect and target hair pigment that contrasts with the skin's color.
Regardless of skin tone, naturally light blonde, red, white, and grey hairs have less pigment, hence IPL is often less effective on people with these hair colors. On dark skin tones, many devices also don't function. The greatest IPL candidates typically have pale to medium skin and black hair.
Be aware that they are not appropriate for women who are pregnant, people who have certain skin or hair issues, or people who are receiving certain therapies. Additionally, they are ineffective on tattoos and permanent makeup, so always read the fine print before making a purchase.
How many IPL procedures are necessary to notice results?

IPL equipment should often be used repeatedly for four to twelve weeks to ensure that all visible hair has been removed. Hair should begin to look finer and should regrow either slowly or not at all.
Where there is any regrowth, top-up sessions can be conducted. Results vary depending on how the gadget is used and the type of skin and hair you have.
What to think about before buying
The frequency of flashes This is the maximum amount of times the gadget can flash. The majority have at least 100,000, however if this goes out, you'll need a new light. While some gadgets give endless flashes, not all devices can be replaced with bulbs.
How many treatment heads are there? A head with a narrower treatment window is more useful if you intend to use the device on smaller regions.
Amount of intensities: This affects the frequency with which you must use the device and whether you may modify the intensity to accommodate more delicate areas.
There are various modes: The majority of devices have glide and stamp modes, and a few also have a "gentle" mode.
Speed:The shorter the time between flashes, the quicker the treatment session.
Automatic skin tone sensor: Some devices detect the optimum intensity and safe settings for your skin tone.
Corded or cordless: Some devices can be used cordless, for ease of use and transportation.
how we test
We tested a variety of at-home IPL hair removal equipment for six to twelve weeks with the help of our panel of 140 testers from throughout the UK.
In order to determine how well each device removed hair from the upper lip, bikini line, underarms, and legs, test subjects carefully followed the directions that came with each device.
They also evaluated how straightforward the process was, how comfortable it felt to remove hair, and how easy each gadget was to operate and regulate. Finally, testers provided feedback on the beginning of regeneration.
This second offering from Philips comes in at a marginally more reasonable price range while scoring only marginally worse than our winner. After just four weeks of treatment, researchers discovered a reduction in hair growth, along with thinner and less visible hair that did return.
In order to automatically identify which setting you should be using, this device has the same skin sensor as the Prestige device. It also has a convenient precision attachment for use in smaller areas. Our panel noticed a noticeable reduction in body and facial hair after 12 weeks, and nobody reported feeling any pain or irritation while taking it.
Important details
Electricity: Mains No cordless
Features: Five skin type settings, Lumea app, skin sensor
What's in the box: Satin Compact pen trimmer with eyebrow comb and cleaning brush, cleaning cloth, attachment head, precision attachment head, device, manual.
Usage: Every two weeks for the first four sessions, then touch-up where needed
Flashes: >250,000
3
JOINT RUNNER-UP IPL HAIR REMOVAL DEVICE
4
JOINT RUNNER-UP IPL HAIR REMOVAL DEVICE
JOVS Venus Pro Skin Rejuvenation Device | The Only Combination IPL Skin Rejuvinnation & Anti-Ageing Device
Speaking of a 2-in-1, this cutting-edge IPL device, which is not your typical appearing IPL device, not only removes hair but also targets wrinkles and other symptoms of aging with an LED attachment.
This device uses ICE technology to help cool skin, which most testers reported prevented pain if you're concerned about the discomfort (which, trust us, is little compared to other hair removal procedures).
Most users noted it was simple to get into every nook because of the unique spinning head, which seeks to treat every area of skin. After six weeks, everyone was pleased with the device's ability to remove hair and enjoyed how high-quality it felt overall.
Key specifications
Power: Mains
Cordless: No
Features: Six energy modes, 180° rotating head
What's in the box: Six attachment heads
Usage: Every two weeks for the first six weeks, then touch-up where needed
Flashes: >500,000
Braun IPL Silk Expert Pro 5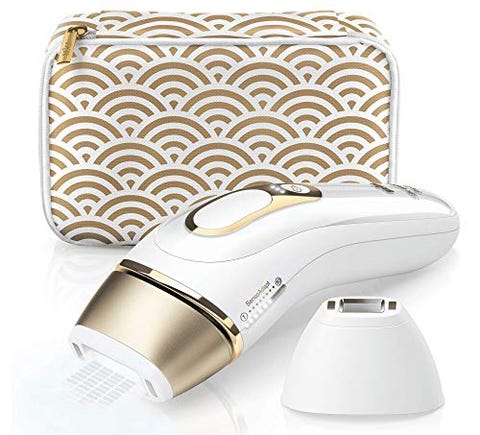 This device is said to be able to treat your legs in under five minutes and makes the claim that it can provide the equivalent of 22 years of treatment in its lifetime. 90% of our testers were impressed with how quickly this device produced effects, observing a drop in hair regrowth after both four and eight weeks. It has an outstanding 10 intensity settings.
Our panel felt that because it has a variety of interchangeable heads and a Venus razor as a bonus, it makes it simpler to reach most body parts. It covered a lot of skin quickly, according to our testers, and was simple to set up and use thanks to its single control button.Key specifications
Power: Mains
Cordless: No
Features: Two treatment heads, 10 light intensities, two treatment modes (stamp and glide), skin tone sensor
What's in the box: Precision head, razor, device, instructions
Usage: Body hair requires one treatment a week (for four to 12 weeks) then whenever you need (every one to two months)
Flashes: 400,000 flashes
This device makes the claim that it can treat the entire body in less than 20 minutes and minimize hair growth as well as stubble and ingrown hairs. It also checks for skin compatibility with an integrated skin sensor to make sure it emits the right light pulse. It can be Bluetooth connected to an app that provides a treatment schedule and a light pulse counter.
After four weeks, our panel saw a decrease in hair growth and thickness, and 79% said there was a noticeable difference after the advised 12 weeks. The panel praised its straightforward construction and accurate head, which permitted access to tight spaces. Additionally, it is small, making it perfect for people with limited storage.Key specifications
Power: Mains
Cordless: No
Features: Five intensities, skin tone sensor, compatible treatment plan on the mobile app
What's in the box: Power cord, device, UK, EU and US power plugs and instructions
Usage: Initially every two weeks, after two months every four weeks, and after this treat as needed
Flashes: 400,000
Sensica Sensilight Pro IPL Hair Removal Device
This ingenious device has two operating modes: pulse and glide. The glide mode allows you to cover the skin without having to click the button repeatedly, which speeds up usage.
Within four weeks, our test subjects noted a difference in hair regrowth, and they observed that over time, it got even more efficient at reducing regrowth and making hair sparser.
The panel did like the many attachments, which allowed for more precision in some places, despite the design's size and the difficulty of changing heads.
Important details
Energy: Mains
No, cordless
Two treatment heads, six intensity levels, two treatment modes (pulse and glide), and a skin tone sensor are among the features.What's in the box: Device, treatment heads, charging cable, storage bag and instructions
Usage: Body hair requires treatment every two weeks for the first four weeks, then once every four weeks afterwards; for facial hair, use it every two weeks for the first five weeks then every four weeks; after seven weeks for body hair and eight for facial hair, top-up as and when needed